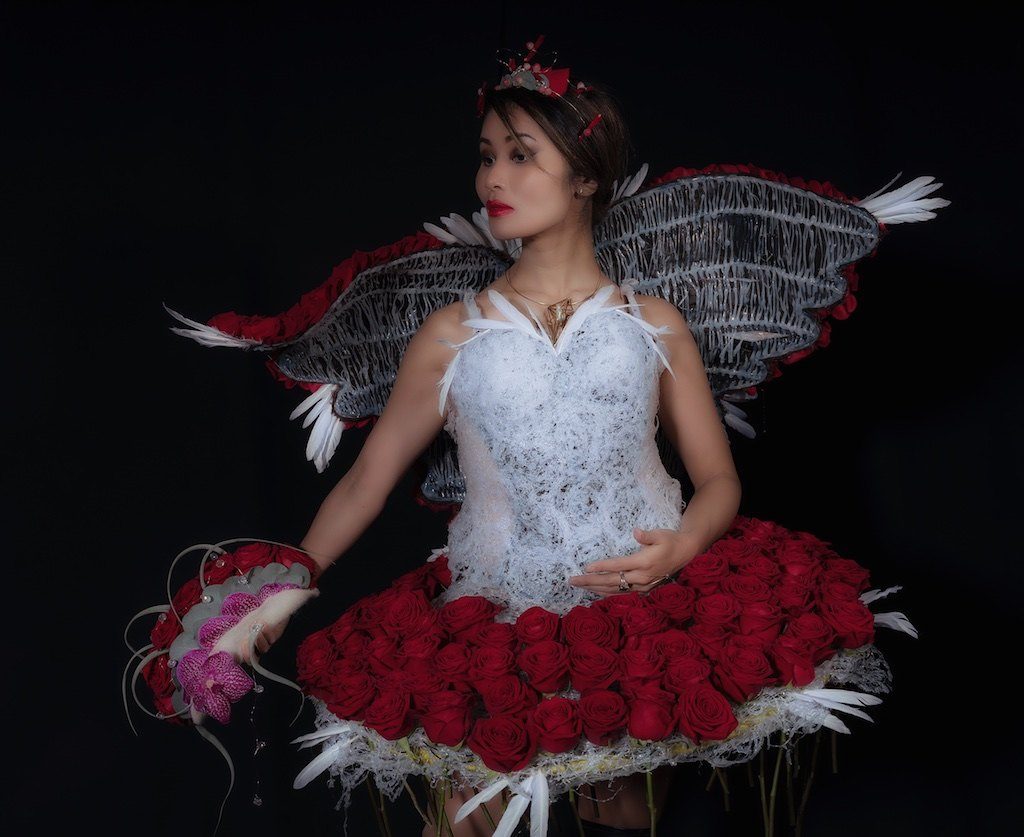 Floral designer, Cyrille Ribet brought his skills to life with a vivid floral-dress display that he recently did for Florever using Porta Nova Red Naomi roses. Cyrille best describes his style as asymmetric with a refined touch of ikebana movement. He was born in Normandy, a French town famed for her amazing history, charming selection of Coastal landscapes and an enviable selection of French museums. Cyrille honed his design skills as a young lad under the tutelage of his now late mum; and later went on to work vastly as a professional in places such as the Caribbean Island, Mexico, USA, Turks caicos island, Four Season Paris and the Luxe Hotel Switzerland.
The Project & Floranthousai
For this project, Cyrille used about 350 stems of Porta Nova Red Naomi. He artfully captured a black swan theme with this floral dress design that was also reminiscent of Tim Burton's musical thriller, Nightmare Before Christmas. Armed with a hot glue gun and ribbon, It took the designer two weeks to create the captivating wings and the dress. And a further two days to create the surrounding structure.
"I used 50 porta nova roses for the petals used on the wings, 100 roses for tutu skirt and 200 roses for structure," says Cyrille.
This design and floral installation was also part of a series called Floranthousai whereby Cyrille has teamed up with model Taka Iri and Photographer Enrico Borgogni to tell stories in a floral art form where nature, life moments and the unmatched beauty of a woman is captured and expressed uniquely.

Whats Next & Porta Nova Roses
Over winter and during the forthcoming holiday season, Cyrille will yet again be busy at work at the prestigious Kempinski Grand Hotel Des Bains St Moritz in Switzerland where he dreams to create a superb lobby center-piece using Porta Nova Red Naomi roses. Cyrille loves his job because, as he says, there is virtually no limit to one's imagination. And also from the way floristry is as diverse as the many cultures and countries it serves. He is mostly inspired by movies, art, books, nature and women.
And why does he like Porta Nova Roses… "For its top quality, stays fresh for a long time, opens nicely and can still be used when they are dried,  I especially love the dark-purple color when dried and with the nice, subtle sweet scent."
About Florever
Florever is one of the foremost wholesalers in the Italian market supplying cut-flower, plants and floral accessories. They specialize mainly in top quality Dutch products such as Porta Nova Red Naomi with direct purchases to Dutch auctions and offer good optimized transportation of products that allows perfect control during the Dutch-Italy journey.
The Creatives
Floral designer:      Cyrille Ribet &  Floranthousai
Model:                       Taka Iri
Photography:          Enrico Borgogni
Model's Jewellery: Extremida
Porta Nova roses supplied by Florever / Betty Grelli